New Life Church of Christ (Holiness) U.S.A. is nestled in the New Orleans East corridor.  It was founded in 1985.  This church has a rich heritage of promoting holy living and lifestyles.  We are proud to be a part of the National Church of Christ (Hol.) U.S.A. denomination.  Each week you will find services that reverence God through lively worship, praise and study.  Visitors are welcomed each Sunday through a special time of fellowship and song.
Church History
The Church of Christ (Holiness) U.S.A. denomination started out as a vision of Bishop Charles Price Jones in 1905.  Bishop Jones believed the life described in the Bible should be the life lived.  Since 1905 the Churches of Christ (Hol.) U.S.A. has spread throughout this country and abroad.
For many years there was only one church in the New Orleans area, but in 1985 seven Christian women envisioned the furtherance of God's ministry in the New Orleans East area.  These sisters were Sis. Serena Thomas, Sis. Willia Mae Miles, Sis. Rhetta Jacob, Sis. Dorothy White, Sis. Juanita Bridges, Sis. Yvonne Washington and Sis. Betty Ratcliff.  They met weekly in the home of Sis. Serena Thomas for a weekly prayer meeting and Bible Study.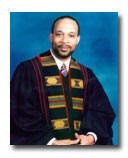 Elder Clifton Montgomery facilitated the Bible studies.  Elder Montgomery had recently moved into the New Orleans area from Jackson, Mississippi. After heeding the advice of the Elders, Elder Montgomery called a meeting of the supporters of a mission church.  On January 28, 1985 supporters met at the home of Sis. Linda Coleman to begin the groundwork for the mission church.  The first slate of officers was elected and New Life Church was on its way. Elder Montgomery served as pastor of  New Life Church from 1985 to 1988.
During the pastorage of Elder Montgomery New Life Church became known as the "little church with the big heart".  He stressed the need for excellence in our worship services as well as business meetings.  Elder Montgomery led the way in purchasing the first New Life Church building located at 4855 Wilson Avenue. This little church provided the framework for what was to become a church full of praise and service to God. The motto "where there is no vision the people perish Proverbs 29:18" became the catch phrase for over a decade. In 1988 the torch of pastor was passed on from Elder Montgomery to Elder Alvin Partman, Sr.
Elder Partman had served New Life Church as a member, deacon, an associate minister and finally pastor.  He worked faithfully at New Life Church from 1988 – 2003.  Elder Partman loved the comradery of the saints, and the close-knit fellowship that is still a viable part of the New Life Church ministry.  Many were saved and several ministries and community initiatives flourished.
In 1995 New Life Church moved from Wilson Avenue to 5918 Babylon Street.  God heard the prayers of the saints and provided an edifice where the ministry could accommodate the needs of a growing congregation.
As the scripture states, one planted, one watered, but God gives the increase (I Cor. 3:6).This is true of the New Life ministry.  Elder Partman was challenged by God to move to another area.  After heeding the call of God to move on to a different ministry Elder Torrence Sparkman moved to New Orleans from Chicago, Illinois and accepted the challenge of pastoring New Life Church.
Elder Sparkman served as pastor of New Life Church from 2003 – 2005.  He became a welcomed edition to the New Life family as he challenged us to live life in a "New Life Way".  He worked faithfully as pastor until the effects of Hurricane Katrina destroyed his home.  His love for others and the church inspired many.
New Life Church is currently under the ministerial care of Elder Archie C. Brown. He became pastor of New Life Church in 2008.  He is working diligently with to fulfill the New Life COCHUSA mission of providing assistance and guidance to individuals in the New Orleans east community.
We are challenged to continue the mission set before us, and we welcome others to come experience New Life!